Anatomy of a Stain (2017). 🍴 How might I change the narrative of the stain to a more inclusive, positive one? By wearing my stains with pride? By enhancing the stains I make rather than removing them? By creating a concept in which stains are socially acceptable, encouraged even?
By experimenting in a reiterative and reflective way, simultaneously looking back and ahead, focusing on the experimental process rather than a specific product.
May 31 – Tomato mackerel
"The staining and embroidery still haven't had the desired effect. I still don't feel like wearing the shirt in public and feel untidy and sloppy when doing so."
June 9 – Ramen noodles
"It's becoming less and less challenging to put on the shirt and wear it in public. Though it is still not the most pleasant thing, and demands a conscious decision."

June 17 – Okonomiyaki

"The shirt hasn't induced the change of narrative around stains that I hoped for. Would a "shared" shirt be more effectual? We would stain each other rather than ourselves, chained to our messiness not being able to leave the situation. It would become a shared, social experience."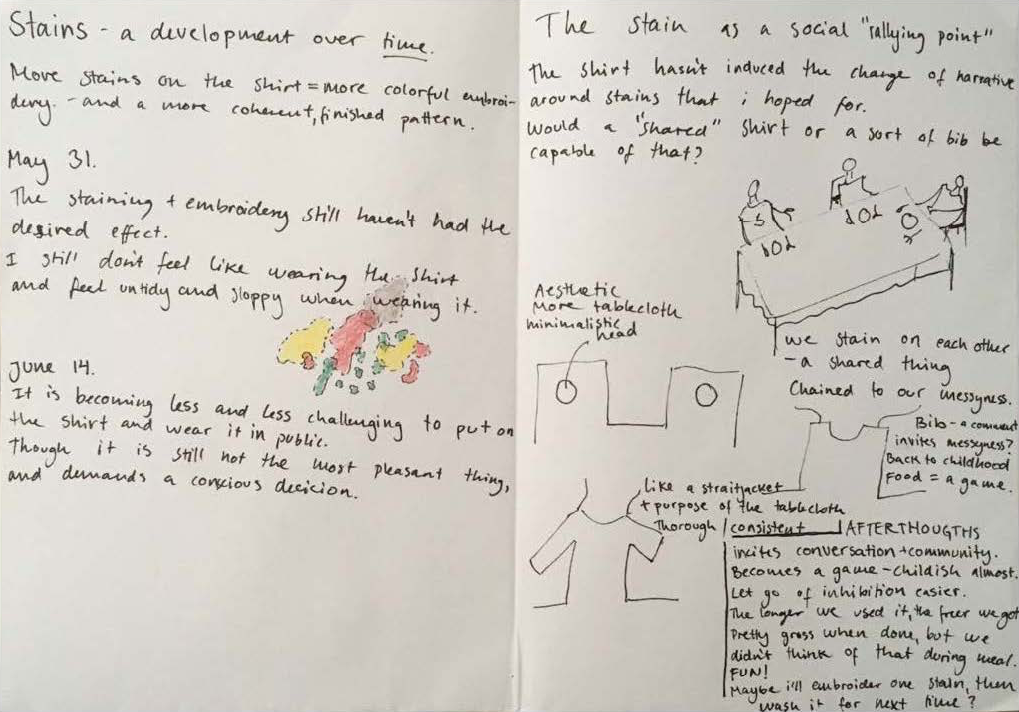 Backdrop video: Final product in use (a tablecloth with integrated shirts)
Shot and edited by Karla Werner Zeuthen